Electric vehicles on the agenda for First Class Cars in 2021…
As you would expect First Class Cars will continue to take the lead in environmental friendliness into 2021. Already operating one of the greenest cars ever made, the Toyota Prius First Class Cars is now planning to update its both its existing Mercedes S Class and V class vehicles to the 2021 all new electric models.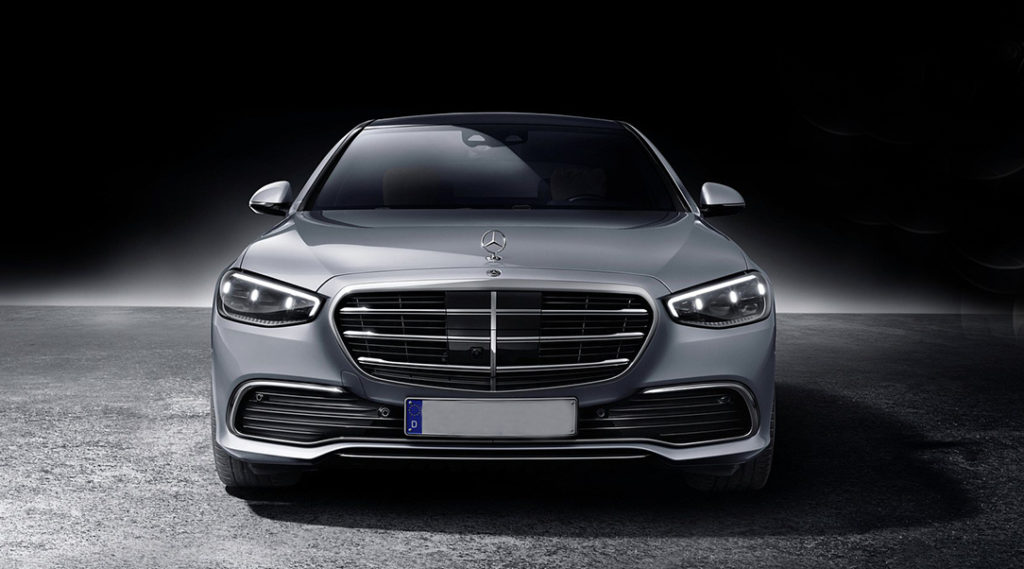 The new model S-Class features technology with a range of new electrified powertrains and advanced driver assist features. Comfort and technology levels are boosted , with the aim of cementing its position as the self -proclaimed 'best car in the world'.
The futuristic technology featured in the new S class includes: its augmented reality heads-up display. overlaying live distance indicators and navigation directions onto the windscreen. The system can detect traffic and suggest a suitable gap to keep with the car in front, using coloured bars to suggest when you're too close, while navigation instructions update constantly to direct the driver around roundabouts and when filtering between lanes. Active lane keeping assist also uses coloured indicators to suggest when not enough steering lock has been applied through a corner.
The new S-Class will put an even greater emphasis on It will feature the second-generation version of the firm's MBUX infotainment system – with fewer physical controls, five touchscreens and an array of motion-detector, sensor-operated functions.
Further visible details include a new interpretation of the classic Mercedes-Benz grille and door handles that sit flush with bodywork and pop out when the car is unlocked. The latter is understood to be one factor contributing to best-in-class aerodynamic properties.
Mercedes will also launch a pure electric version of the S'class which will be the flagship for its new EQ electric vehicle sub brand badged the EQS it will offer over 310 miles
on the latest WLTP test cycle when it goes on sale in 2022. Plug-in hybrid versions of the S-Class will feature part-time zero-emission capability for distances of up to 62 miles, together with the option of a newly developed 4Matic four-wheel drive system with fully variable apportioning of drive between the front and rear axles.
The EQS forms part of Mercedes' £9 billion programme to introduce more than 10 dedicated electric vehicles to the UK market within the next six years.
New Mercedes electric V class
Fully-electric update of the V-Class is released early in 2021 after the EQC SUV. The long-wheelbase version badged will features a 90 kWh lithium-ion battery which provides it with a maximum range of 418 km (260 miles).
The battery feeds electricity to an electric drive train (eATS) on the front axle integrating the electric motor, fixed transmission, cooling system and power electronics in a compact unit. The motor delivers 150 kW (204 PS / 201 HP) and 362 Nm (267 lb-ft) of torque, enabling a top speed 140 km/h (87 mph) – optionally extendable to 160 km/h (99 mph).
The EQV is equipped with an AC water-cooled on-board charger (OBL) with an output of 11 kW which enables AC charging at home or at public charging stations. Using a fast charging station at a capacity of 110 kW, the EQV can be charged from 10 to 80 percent in around 45 minutes.
By placing the battery in the underbody, the EQV remains as spacious and versatile as the regular V-Class. Thanks to the flexible installation of individual seats, it can offer a variety of seating configurations for 6-8 passengers.
First Class Cars hopes to upgrade it's existing fleet to the new electric versions to maintain it's green agenda, Whilst the COVID 19 virus is still proving an enormous challenge to public health and to the best laid business plans. First Class Cars is determined to look forward and plan for the future and focus on service excellence including providing a superb fleet of vehicles and a safe, secure environment for its customers.